Tony Reyes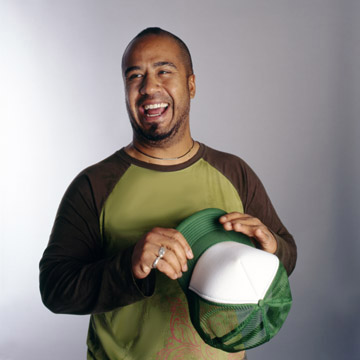 Songwriter/Musician
With major songwriting contributions on Cee Lo Green's "Bright Lights Bigger City", Ne-Yo's "Telekinesis" and Fantasia's "Trust Him", Tony Reyes continues to garner well-deserved attention for his writing and production skills.
A first-call session musician and a secret weapon of many Atlanta producers, Tony's guitar, bass, keyboards and background vocals have graced a multitude of hit records. Tony's musical ability is featured on Gwen Stefani's Love Angel Music Baby, Shakira's Oral Fixation, Vol. 1&2, as well as songs from various artists such as Lady Gaga, Train, Janet Jackson, Kelis, Ginuwine and Sugababes.
Tony's versatility as a writer shows depth and makes great use of his musicality. Over the past few years, Tony has written for Leona Lewis' Spirit and Joss Stone's Introducing Joss Stone.  Tony co-wrote "Reason to Believe" on the Coming Home album with Lionel Richie and Dallas Austin. Reyes co-wrote and co-produced with Ben Allen the Christina Aguilera track "Here to Stay" on Back to Basics. Tony has also written with Jennifer Hudson (Dreamgirls), Ne-Yo, Beyonce, hit songwriters Scott Cutler and Anne Preven (Beyonce's "Listen", Natalie Imbruglia's "Torn"), Denise Rich (Celine Dion, Patti Labelle) and Cristyle (Rihanna, Mariah Carey).
Listen to Tony's Work
"Music" – Joss Stone
"Tell Me What You're Gonna Do now" – Joss Stone
"Bright Lights Bigger City" – Cee Lo Green
Fun Facts About Tony
Why Music? Originally, I was going to be a priest. I played acoustic guitar at Mass . At 14, I plugged my brother's electric guitar in to an amp and jammed with the Rolling Stones' Get Yer Ya Ya Out. That was it!
Most Unusual Job: Acid washed tractor trailers one summer, ended up with bleached eyebrows and a white afro! Lunch was cooler full of ham and cheese sandwiches. Great Money!
Mentor: Nick Didia
Favorite Food Red meat: Beef, and I will never eat lima beans or okra
Travel: Would like to return to Germany– loved the people there
Would like see: Japan
Favorite TV Show: Seasame Street
Biggest Motivator: Ella, my daughter
Favorite Music: Steely Dan – any and all records