Matt Hayes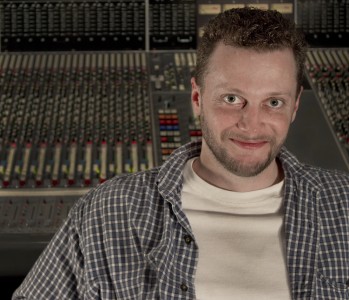 Engineer
With an impressive and diverse list of clients, Matt Hayes brings a solid engineering presence to Atlanta's music industry.  He currently works out of multiple studios, frequently, as of late, with producers Bangladesh, and Will Power of Supahot Beats.
Matt realized his calling for a professional career in music after graduating with a B.B.A. from Florida International University in 2004.  He enrolled at SAE Institute Miami and earned an Audio Technology Diploma and a WAVES Certification in 2006.
"I actually started (professional) work at the SAE Campus in Miami in 2006, shortly after graduation.  I became an instructor at SAE Atlanta in 2009 when I moved to here."
Matt has 16 years of musicianship under his belt, spanning piano, drums, 6-string and bass guitar.  He is fluent in Pro Tools, Logic, Celemony Melodyne, and Propellerhead's Reason.  His consoles include an SSL 4000G+ and AWS 900, a Neve VR 60, Yamaha O2R, Digidesign D Control and Control 24, and various Mackie and Midas consoles.
Client List
Mix Engineer:
Paul Wall, Raekwon, Big Henry, ASAP Rocky, Denum Jones, LoCash Cowboys, Charlie Farlie, Bubba Sparxxx, Danny Boone, Cap Bailey, RyattFienix, Gangsta Boo, Nikkiya, Yelawolf, Killer Mike, Asia Major and Waka Flocka Flame, Rittz, Tech N9ne, SJ Boyz, Dizzy Wright, Nappy Roots, Big Page, Struggle, Anne Harper, Bob Schneider, Sonia Leigh, Pana Yota, Emilio Rojas, Shawty Fatt, Jackie Chain, Diamond, STS, John Hope, Sizzle, Rein, Input, Chris Webby, Method Man, Jon Connor, Prodigy, Trina Kay, The Outlawz, K Smith, John Wade & J.O. Cool, Stevie Lee Combs, Cinema Tunes, Raden, Ketchy Shuby, Disguised as Heroes, Lars Vaular, Le Sexoflex, Caleb Grimes, Side Project, Death On Wheels, Young Orchids, Yoki Martin, Trinidad James
Tracking Engineer:
RyattFienix, Trinidad James, JLack, Sean Paul, Schoolboy Q, Diamond, Chris Webby, Smoke, Chizzy, Cinema Tunes, Charlie Wooton, DJ Hurricane, Sonia Leigh, Young Orchids, Death On Wheels, Mindless Behavior, Caleb Grimes, The Mad Violinist, Pryce, Huey, Lights Down Low, The Outlawz, Nappy Roots, Dizzy Wright, Bob Schneider, Jawan Harris, Scrilla, Input, Side Project, Ike Stubblefield, Freddy V, Stevie Lee Combs, Anne Harper, Rein, Emilio Rojas, STS, Gangsta Boo, Jackie Chain, Will Brennan, Nikkiya, Shawty Fatt, Rittz, Yelawolf, Struggle, Big Page, Future, Bangladesh, Keke Palmer, Rock City
Assistant Engineer:
Wiz Khalifa, Young & Divine, Rich Ward, Black Cat Bone, Laura Reed & Deep Pocket, Soul Stash, Wade & the Rhythms
Fun Facts
1) Top 3 Dream Jobs: Meteorologist in San Diego, VP of online marketing for the Amish, or Professional Psychic
2) Favorite piece of gear: Tubetech CL-1B
3) Top 3 favorite records: in no particular order- "Under the Bridge" by Red Hot Chili peppers, "Dark Steering" by Squarepusher, and "Take the Power Back" by Rage Against the Machine
4) Guilty TV or Movie Pleasure: cartoons
5) Favorite pet (if you've had one) and why: Missy the Basset Hound because of her loyalty
6) What would your high school friends say about you? "Matthew who…?"
7) Never travel without: my laptop and ilok
8) Something you can't live without: car
9) Personal goals you want to achieve this year (if you have any): being a good dad