Mac Attkisson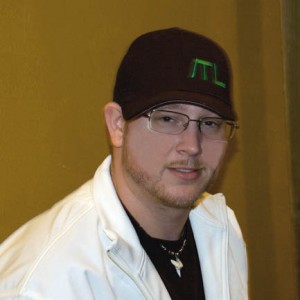 Engineer
Rocking out to AC/DC in the basement and break dancing in the street to Whodini, Mac Attkisson knew very early on that he wanted to work in music. Mac grew up DJing at parties and school dances. A gig at the local teen club led to a gig at the local radio station, and the 15 year old was learning the business while using the station's studio to produce and edit music for his friends and for the club.
Mac worked his way up the radio food chain to an afternoon drive shift in Lexington, KY, but what he enjoyed most about his job was working with local artists. Recording and producing projects for artists and breaking new music on the radio made Mac realize what he really wanted to do; as much as he enjoyed spinning records, he preferred making them. Mac left his radio shift to go to school at Full Sail so he could pursue his interest in engineering.
After Full Sail, Mac moved to Atlanta for an internship at Doppler Studios and quickly progressed from interning to engineering sessions. After 2 years at Doppler, he moved on to work as a freelance engineer. Mac has worked with producers Bryan Michael Cox, Tricky Stewart, Polow Da Don and artists Rich Boy, Dream, Mario, Monica and Jamie Foxx.
Most recently Mac has worked extensively with producer Bangladesh on music for Jay Z, Alicia Keys, Three 6 Mafia, Fantasia, Usher, Plies and Missy Elliott. Mac also mixed "Stupid Wild" for Gucci Mane's State vs. Radric Davis album.
Fun bits about Mac
Worst Jobs: Worked at drive-thru at Wendy's in Kentucky, tried to get fired…didn't work; Lawn mower repair place – the manager would ask him to babysit his kids
Favorite Modern Music: Outkast
Favorite Old School Music: Otis Redding, Curtis Mayfield, Sam Cook
Favorite Movie: Step Brothers
Pysched to have worked with: Big Boi
Most Famous Person Mac ever met: Michael Schumacher (world's greatest Formula One driver)
Food Issues: No seafood! I'm Allergic!
Favorite Type of Food: Chinese
Favorite Restaurant: Will eat a steak any day from Ruth's Chris Steak House