Blake Harden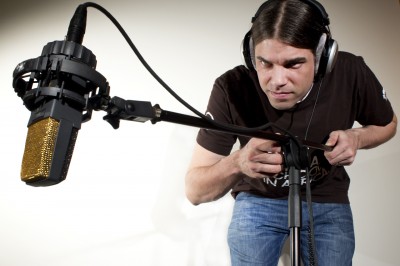 Engineer/Producer
From a single-speaker boombox, and local punk rock shows, to the Grammys; from Bluegrass to Pop to Metal; Blake Harden has had a substantial career in audio engineering and music production.
In 2011, Blake received a Grammy Certificate for his work on Usher's Raymond vs. Raymond.  He currently engineers for several independent and major-label artists, writers, and producers; and is producing projects for Nappy Roots, Struggle, Panayota, The West, Sean Waterman, and The Illusives.
"I grew up a fan of many different genres.  I was the kid who was blasting Digital Underground while wearing a Green Jelly t-shirt.  Atlanta has such a broad spectrum of musical talent, I was cutting my recording teeth working on everything from Jazz to Pop.  My first gig, assisting producer/keyboardist Justin Ellington at 800 East, was always something new, many times unplanned, and most of the time amazing.  One day, radio hits with Bangladesh, the next, Funk/Jazz/Afro-beat with some of the top musicians in the country."
Blake toured nationally as live sound and recording engineer for Elemental Harmonics in 2005-2006.  Since then, he has free-lanced as a live sound engineer for venues throughout Atlanta, GA.  From 2007-2011, he worked his way up from Intern to Lead Engineer at Tree Sound Studios.
Client List
Mix Engineer:
Will Power (SupaHotBeats), Yelawolf, Tech N9ne, Rittz, Stevie Stone, Nappy Roots, Nikkiya, Scrilla, Young Jeezy, Diamond, Big Page, Struggle, Panayota, Jackie Chain, STS, Chris Webby, Method Man, Trina Kay, Disguised as Heroes, GlamourLyke, Sean Waterman, Ben Taub, Pill, LIUNS Den, Quench, Dion Primo, El Nomada, The West
Tracking Engineer:
Bangladesh, Usher, Tech N9ne, Krizz Kaliko, Big Sean, Justice League, Diamond, Chris Webby, B. Smyth, Harold Lilly, Smoke of Field Mob, Charlie Wooton, Joey Summerville, Grant Green Jr., Bow Wow, Yon Rico Scott, Panayota, Laura Reed, Robbie Turner, Sean Garrett, Juvenile, Prettyboi Fresh, Bob Baldwin, The Mad Violinist, The Symphony Crack Orchestra, Pryce, Nappy Roots, Jawan Harris, Scrilla, Ike Stubblefield, Freddy V, Jeff Sipe, STS, Jackie Chain, Will Brennan, Nikkiya, Shawty Fatt, Rittz, Yelawolf, Struggle, Big Page, Estelle, Rock City, Kardinal Official, Elijah Blake, Kebbi Williams, Ben Taub, Mausiki Scales, Lil' John Roberts, Rehab, Pill, Ryon Lovett, Sonny Emery, Rich Girl, Shawn Christopher, Marion Meadows, Bobby Lee Rodgers, Sean Waterman, Kern Brantley, Gunplay, Nathan "Flutebox" Lee, Derek Scott, Melvin Baldwin, Toni Redd, Blac Elvis, Dion Primo, Wayne Blazed, Bryan Gibson, Kenyon Carter, Will Power (SupaHotBeats), Justin Ellington, LIUNS Den, Muffy, Fefe Dobson, Malay, Quench, Lil Twist, M16, K. Michelle,  TrackBangaz, Elemental Harmonics, The West
Assistant Engineer:
Usher, Warren G, N.E.R.D./Common, Ken Ford, NoID, Sevendust/Daughtry, Nappy Roots, Manchester Orchestra,  Rebecca Loebe, Dan Hannon, Justin Ellington, Diddy/Tre Songs, "Oh Africa" Pepsi World Cup 2010 feat. Akon and Carrie Hilson and many many many more…
Fun Facts About Blake
1) Top 3 Dream Jobs -Helicopter (Airwolf) Pilot, Stay At Home Dad, Pro Skateboarder
2) Favorite piece of music gear – Guitar Amplifier
3) Top 3 favorite records – The Ramones "Ramones Mania," Pink Floyd "Dark Side of the Moon," Arlo Guthrie "Alice's Restaurant"
4) Guilty TV or Movie Pleasure – Anything "Trailer Park Boys"
5) Dinner Fork or Salad Fork?  Salad Fork; I'm not a vegan, but I usually eat like one.
6) What were you notorious for in high school? – Water Cup Lunch Table Mines. They were upside-down, water-filled, plastic cups, strategically placed on lunch tables around the cafeteria.  When lifted, havoc ensues for the cafeteria worker.
7) Never travel without – a warm hat, and extra socks
8) Something you can't live without – Coffee
9) Favorite superhero – Jeffery "The Dude" Lebowski- "He's the man for his time and place."