Larkin Poe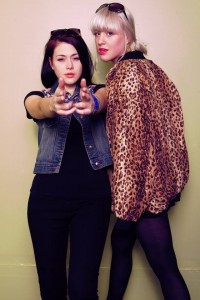 If your ears are hungry for new musical flavor, treat them to the "Swampadelic" sounds of Larkin Poe, a captivating pair of soul-singing/songwriting sisters from Atlanta, Georgia.  Full of stunning musicality, Poe's music pulls from a repertoire of folk-rock energy, R&B attitude, jam-style grooves, and singer/songwriter elegance.
Rebecca and Megan Lovell deliver an inspiring live performance rich with tight vocal harmonies, dizzying instrumental riffs and insightful lyrics. The sisters' musical journey began at the ages of 5 and 6 playing classical violin and piano. In their early teens, they won a prestigous award on Garrison Keillor's A Prairie Home Companion on NPR, which propelled them to tour internationally – performing on numerous stages that include the O2 Arena in London and The Grand Ole Opry in Nashville, TN.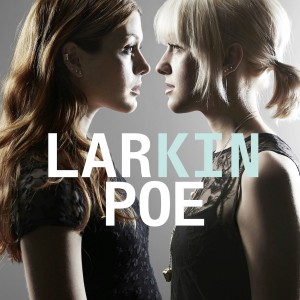 In 2010, they released four original studio EPs – Spring, Summer, Fall, and Winter – and were a regular fixture on European radio charts.  They continued touring through 2011, and  in 2012 fans from Mobile, Alabama all the way to Oslo, Norway saw extensive on-stage action from Larkin Poe, along with the summer release of their fifth EP, Thick as Thieves, and a live performance DVD. Fast forward to 2014, the ladies have earned high praise as an opening act for Kristian Bush of Sugarland and opening/backing band for Elvis Costello.
Larkin Poe will celebrate the official U.S. release of their full-length debut, KIN, (under the RH Music label) in Fall 2014.  The first half of Oct. the duo will tour Europe with Elvis Costello, who has once again asked Larkin Poe to join him as both his opening act and backing band, with the remaining half of Oct. throughout Nov. dedicated to touring the U.S.  
Click to see "Don't", the new video from KIN
FALL 2014 TOUR DATES
European Dates – with Elvis Costello
10/1 – Bergen, Norway @ Logen Teater
10/2 – Oslo, Norway @ Centrum
10/4 – Uppsala, Sweden @ Konsert & Kongress Main Hall
10/7- Hamburg, Germany @ Grobe Freiheit 36
10/9 – Berlin, Germany @ Admiralpalast
10/12 – Mainz, Germany @ Phonixhalle
10/13 – Munich, Germany @ Circus Krone
US Dates
10/18 – Huntington Beach, CA @ PBR/Bulls on the Beach
10/21 – Los Angeles, CA @ Hotel Café
10/24 – Atlanta, GA @ Terminal West – CD RELEASE PARTY!!
10/26 – Patchogue, NY @ The Emporium (w/Kristian Bush)
10/29 – New York, NY @ Mercury Lounge
10/30 – Washington, DC @ Gypsy Sally's
10/31 – Fairfield, CT @ Stage One – supporting Sister Sparrow & Dirty Birds
11/1 – Boston, MA @ Café 939
11/4 – Philadelphia, PA @ MilkBoy
11/5 – Easton, MD @ Avalon Theatre – Stoltz Listening Room
11/7 – Charlotte, NC @ The Evening Muse
11/30 – Atlanta, GA @ Eddie's Attic (w/Kristian Bush)
12/1 – Atlanta, GA @ Eddie's Attic (w/Kristian Bush)
12/19 – Atlanta, GA @ Buckhead Theatre
12/31 – Athens, GA @ Georgia Theatre
2/21 – Chicago, IL @ Beat Kitchen (Dunn Dunn Fest)
PRESS
Huffington Post – http://huff.to/1pgXH5Y
AXS – http://bit.ly/1tU91M4
Music News Nashville – http://bit.ly/1zmnWRj
The Telegraph – http://bit.ly/1rNuRPe
SongWriting Magazine – http://bit.ly/1x3qMqu
For the Country Record – http://bit.ly/1nyvqXD

WHAT PEOPLE ARE SAYING (short and sweet)
"Best Discovery at Glastonbury 2014"  ~ The Observer UK
"(KIN) A contender for Album of the Year? Absolutely."  ~ Nemmblog.com
"The darling duo with a knack for headbanging and shredding" ~ The Huffington Post
"…. Larkin Poe make male Blues hued bands like The Black Keys sound like the Spice Girls". ~ HearingAid.blogspot.co.uk
"Sugar High (the song) has the echoes of Melissa Etheridge & Sheryl Crow at their very best but he guitar playing is pure Tom Petty meets Vince Gill". ~ Maverick
"It's been an extraordinary few years for females in music – but we've seen a production line of generic and bland Adele or Amy Winehouse wannabes. KIN is refreshingly bold… Larkin Poe have creativity and imagination in their blood. KIN finds them channeling that better than ever before.                          One of the records of 2014."  ~ Music-News.com
 (Photos courtesy of: Elltime Studios and Mark Hug)