Nico Constantine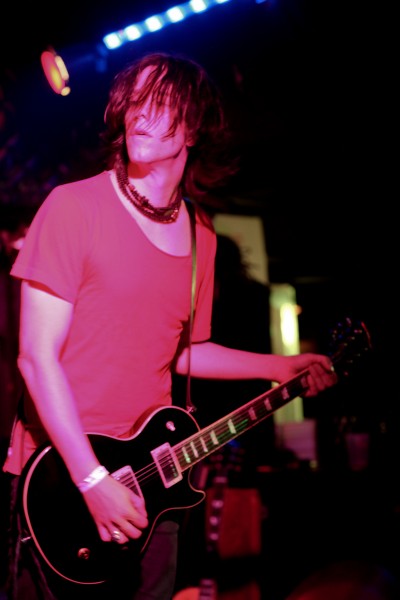 Producer
At Milk Money Consulting, we spell "rock 'n roll" N-I-C-O.  Nico Constantine is an inspired and intuitive record producer, with a rock edge and a timeless musicality.
A natural performer, Nico has shared the stage with world-class artists, serving as a guitarist for Jerry Cantrell's Degredation Trip Tour in 2002, and as the music director/lead guitarist for Lady Gaga's world tour and television appearances in 2009.  His guitar work, songwriting, and production can be heard on some of Gaga's records, the soundtrack to the 1996 feature film Fled; on records with Tom Kafafian, Comes With The Fall, Madfly (Blackheart/Mercury Records), Dirty Pollyanna, Program The Dead (Universal Motown), and most recently The Biters, who's EP Last of a Dying Breed made it to iTunes list of Best Records of 2012.
As a guitarist, Nico has been plucking and strumming since the tender age of nine.  He has recorded with international rock luminaries Carmine Rojas (bassist for David Bowie and Rod Stewart), Matt Sorum (The Cult, Guns N Roses, Velvet Revolver), Peter Stroud (Sheryl Crow, Don Henley) and William DuVall (Alice in Chains, Comes With the Fall).
Nico Constantine is the founder of Institution Media. I.M., a full-service music production company provides recording, digital design and multimedia for artists. Specializing in singles accompanied by music videos, Nico and company proudly welcome Brooklynn and StarBenders to the 2014 roster.
Brooklynn – "Take My Hand" video
ADHD featuring Nico Constantine and Jessica Cochran – "Microphones"
Fun Facts About Nico:
Top 3 Dream Jobs:
1.) Spirit Medium that conducts séances to communicate with dead rock stars.  Would love to be the first person on the planet producing an authentic postmortem record!
2.) Licensed Commercial Septic Tank Cleaner.  I want to be able to say, "Get that shit outta here!" all day long without offending anyone.
3.) Interpretive Dance Instructor healing the world's broken-hearted, one high kick at a time.
Favorite piece of music gear:  I favor the guitar cable…don't even bother to use a tuner since it can cloud the signal!  The guitar cable is my secret weapon and my most prized studio trick.
Top 3 favorite records:
1.)  Bee Gees 'How Deep is Your Love' (it destroys me every time)
2.)  The Cure 'Lovesong'
3.)  Willie Nelson's version of 'Blue Eyes Crying in The Rain'
What were you notorious for in high school?  Being the Egg Man.  I loved going egging.  Nothing in this world is like the sound of a cracking egg!  You can even tap your toe to it.
Article of clothing you can't live without:  My jean jacket…second skin
What superpowers do you have?  I can astral project at will.  Slightly clairvoyant and can jump tall buildings in a single bound.
What animal would you be and why?  I'd prefer to be an insect like an ant.  The thought of lifting twenty times my  body weight excites me.  Squirting formic acid which gets rid of parasites is intriguing as well.  I think Class Insecta falls within the Kingdom Animalia making ants animals too!  I am confused.