Justen Robinson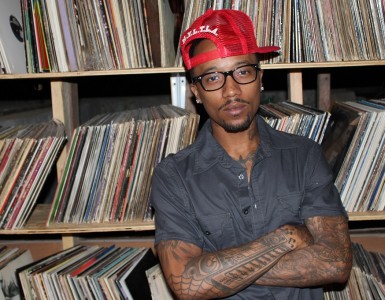 Producer/Engineer/Musician
Born Justen Robinson and hailing from Cincinnati, OH, "J. Rob" has been engineering and producing for 10 years. His calm demeanor and industrious work ethic have made him a favorite among some of the biggest artists and producers in the industry.
J. Rob has engineered for Rodney Jerkins, Bangladesh, Shekspere, Music Soulchild, Ma$e, K Michelle, Bobby Valentino, J Lack, Chrisette Michelle, Dru Hill, Ludacris, Pusha T and more.  In 2012, J. Rob cut his "producer teeth" on Grammy-awarded Chrisette Michelle's Audrey Hepburn:  And Audiovisual Presentation.  He is a graduate of SAE Atlanta, and has attended Chicago College of Performing arts and Berklee College of Music.
Piano, drums and percussion were part of Justen's childhood musical training.  He undertook musical studies from grade school into college.  J. Rob credits his best friend Deizel for introducing him to the production side of music.
"I came home from school one summer, and (Deizel) was in this new rap group.  So I wanted to get involved. Producing was the obvious choice.  I had no idea what I was doing, I was working on an IBM laptop. It was terrible!"
But this decision turned out to be the start of his production career.  At Berklee, he discovered Apple's Logic Studio, the "game-changer" for his musical production work.
"I spent a couple of years on the intern circuit, just paying my dues, and from there landed an assistant engineer position with mix engineer Kevin "KD" Davis.  I became producer Robbie Shakespear's personal engineer, and even got involved with some production duties for him."
2013 is shaping up to be a break-out year for J. Rob.
"I take pride in being able to maneuver through all types of music.  A signature of mine is making my tracks sound as big as possible.  My sound is very dramatic.  I'm a big fan of movie scores and orchestras, so no matter what I am producing, I strive to create that build-up moment of suspense to capture the listener and connect emotionally with them."
Fun Facts About J. Rob
Worst Jobs: Domino's delivery driver; Grocery store inventory taker
Favorite Old School Music: Earth Wind and Fire, Michael Jackson, Whitney Houston
Favorite Movie: Menace To Society, Blow, Goodfellas
Pysched to have worked with: Musiq Soulchild
Most-famous Person J. Rob ever met: Usher
Favorite Type of Food: Soulfood
Favorite Restaurant: Harold's Chicken, Chicago